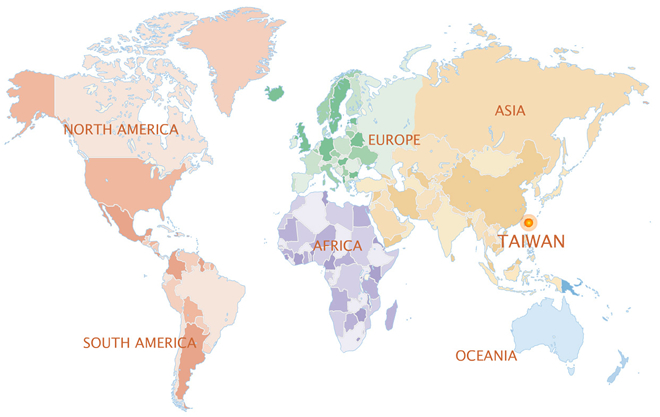 Location
Taiwan lies off the southeastern coast of mainland Asia, across the Taiwan Strait from China - an island on the western edge of the Pacific Ocean. Many airlines fly to Taiwan, making it the perfect travel destination. Taipei is Taiwan's largest city as well as its economic, political, and cultural center. It is a modern cosmopolitan metropolis with a lively and diversified face, filled with exuberance. Whether you're just stopping over en route to another Asian destination, or planning a longer stay, Taipei is a many-faceted treasure that will call you back again and again.
Transportation
While trains and high speed rails are regarded as the fastest public transportations between cities in Taiwan, taxi and buses offer local transport services in most cities. At Taipei and Kaohsiung, MRT (Mass Rapid Transit) connects the main shopping, entertainment and business areas of the city and is the most convenient way to get around.
Climate and Clothing
Taiwan enjoys warm weather all year round. Weather conditions fluctuate during spring and winter, while in summer and autumn the weather is relatively stable. Taiwan is extremely suitable for traveling, as the weather is warm and pleasant. The average temperature is around 29 °C ( 85°F) to 23 °C ( 73°F). It generally feels warm during the day; wearing a T-shirt is enough. In the early morning and evening, jacket may be needed. Carrying an umbrella is recommended.
Language
The most popular foreign language in Taiwan is English, which is part of the regular school curriculum. However, it is advisable to prepare a note with your destination written in Chinese when travelling.
Time zone
Taiwan is 8 hours ahead of Greenwich Mean Time (GMT).
Tipping
Tipping is not customary in most of places in Taiwan but consumer taxes are included with the price tag. There will be 10% or 15% extra charge of tax or service fee in all four-, five-star hotels and some of high-end restaurants, which applies to the accommodations and food.
Electricity
Electricity in Taiwan is 110 Volts, alternating at 60 cycles per second. However, the shape of a socket varies between countries, a portable plug adaptor may be necessary. The flat blade attachment plug is generally accepted.
Water
Drinking water served at hotels and restaurants is distilled or boiled. Tap water is suggested to be boiled before drinking.
Currency and Banks
Taiwan's currency is the New Taiwan dollar (NT$). Foreign currencies can be exchanged at hotels, airports and banks. Major credit cards (Visa, Master, JCB, AMEX) are widely accepted, and traveler's checks may be accepted by tourist-oriented shops and at most international tourist hotels and banks. Banks operates from 09:00 to 15:30, Monday through Friday and closed on weekends and public holidays.
Dialing Code
International Regional Code: +886 2 (Taipei)
Travel in Taiwan
In spite of being a small island, Taiwan has a special geologic structure that has created an endless variety of prodigious scenery. A wide range of tours based on different themes are available at Taiwan Tourism Bureau site:
http://eng.taiwan.net.tw/m1.aspx?sNO=0000210